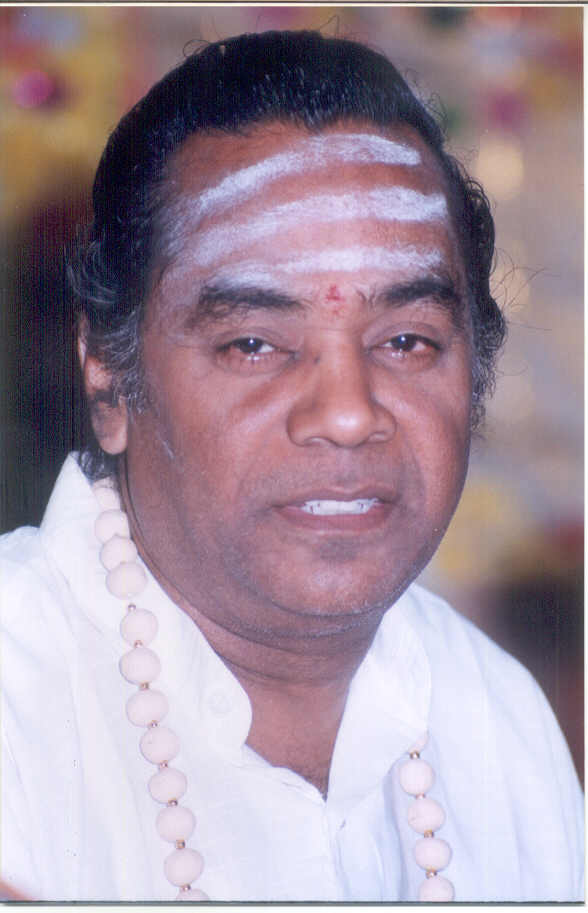 Senthamizh Velvi Chadurar, Sithantha Kavimani
M.P.SATHIYAVEL MURUGANAR B.E.,M.A.
Hailing from Vellore, a town in Tamilnadu, Thiru. M.P. Sathiyavel Muruganar is basically an engineer graduated in Annamalai University. He comes from a family which is very well disciplined and credited with that lineage which has milestones in proficiency of Tamil Literature. He inherits this proficiency in Tamil rightly from his posterity. His father whose name is M. Perumal had rendered yeoman service to the nation and the country which he belongs to. He was austere and steadfast Gandhian who took part in Freedom fight. Turning round to religious sphere on India getting freedom, he had written about 50 books on various branches of Interest in Saivism.
Bringing up his children in the way he had trodden in the selfless path, he had imbibed in M.P. Sathiyavel Muruganar the valuables and the riches of the Saiva religion right from his early age.
Apart from the credits handed down from his father, M.P. Sathiyavel Muruganar had the oppurtunities of shaping himself with Thiru. Krupananda Variyar a great Tamil Savant as his relative. Thiru. Sathiyavel Murugan is an accomplished religious speaker and Tamil poet too. He had worked in Tamil Nadu Electricity Board [T.N.E.B] and retired voluntarily as selection grade Assitant Executive Engineer foregoing ten years of service only with the intention of serving the cause of Tamil Tradition and literature.
He has been conferred more than about 42 titles on various occasions by eminent people and organisations. Of which the Titles Senthamizh Velvi Chathurar, Muthuperum Pulavar, Thirupugazh Chathurar, Tamil Neri Kavalar, Thirumanthira Gnanasaraswathi, Thirumanthira Tamil Maamani, Karpanai Kalanchiya Nambi and Siddhantha Kavimani etc., are few which are noteworthy.
He is an accomplished Agamic Ministrant who has performed more than 1224 Consecration ceremonies of temples known as "Kudamuzhukku (Kumbabishekam)" purely chanting Tamil Manthirams of which one is conducted at Koolai in Johor district of Malaysia. He has also performed more than 2000 Tamil Marriages.
He has brought out many books so far on various subjects of interest relating to Saivism of which one is "Thirumanthira Sinthanaigal" proposed to form this web page. A detailed book on how a "Kudamuzhukku (Kumbabishekam)" and another on how various rituals occurring in one's life right from cradling a baby uptill death ceremonies can be performed with Tamil manthirams, brought out by the author have received overwhelming support from the various cross section of readers to an extent that these books are considered by eminents as The Bible of Tamil Saivaites.
A few of the books written by the author are listed herein:
Pillaiyar Potri Naanooru
Vel Potri
Pamban Swamigal Potri 108
Variyar Swamigal Varalaru Potri 400
Panniru Thirumurai Potri Vazhipadu
Panniru Thirumurai Potri 108
Santhana Kuravar Potri 108
Ambikai Potri Ainguru nooru
Thouthiyam (Pamban Swamigal Nool)
Thirumanthira Sinthanaigal
Thamizh Velvi
Thiruvarut Prakasa Vallalar Araneriyum Amaippugalum
Saiva Siththantha Parinaama Valarchi
Siva Velvi Patal Thirattu
Uzhum Uyar Kural Moondrum
Kasi Matamey Kalakkam yean?
Ivarey Saivar Inithey Kaanga
Thirumanthiram Paayiram - An Introduction
Senthamizh Aagama Kutaneerattu Nannool
Vantamizhil Vazhviyal Satangugal
Saravana Peruman Sarana Thuthi
Karuvuru Arivu Kovai (In print)
Thirukkural Mummani Kovai (In print)
Ulla Kiliyin Killai Kooval (In print)
Valliammai Potri
Thirumurugatru Padai (In Pipe line)
...................